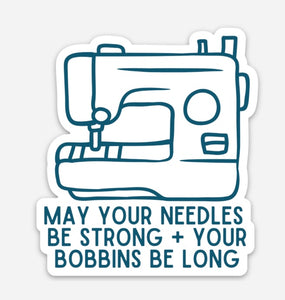 If you sew, you can get behind this mantra! May your needles be strong and your bobbins be long!   

This die-cut sticker measures 2.75 x 3 inches and features a fun design, created by Scout + Bean. 
A thick layer of durable vinyl protects your circle stickers from scratching, rain + sunlight. Suitable for your car, water bottle, or any spot that strikes your fancy.