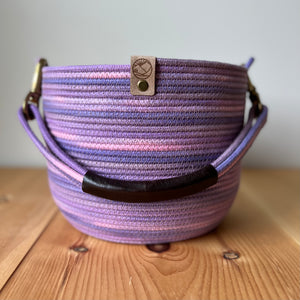 In the spring and summer when things start pushing their way up through the ground, you'll get the urge to gather and forage - fresh grape tomatoes, gorgeous stems of goldenrod, or even a toddler's rock and acorn collection. And in the fall, there will be apples ripe for picking. Or perhaps you have a knitting project that needs containing, but also needs to be ready to grab at a moments notice as you hurry out the door. The Pail will help hold all your treasures.
Made with cotton rope, custom made for Scout + Bean here in Midcoast Maine. Our thread is manufactured in North Carolina and our tabs in Tennessee, making all of our components U.S. made. 
The Pail measures 7.5 inches wide at the base, 7.5 inches tall (16.5 inches with handle fully extended up), 10 inches wide at the brim, with two copper boat clasps, a leather handle grip, and a suede tab finish.