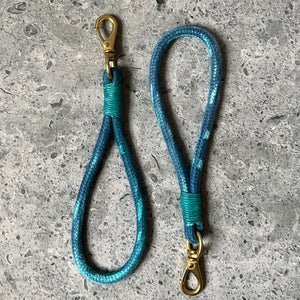 This listing includes a set of two Itty Bitty Keychains in the Shibori Blue dye colorway. 

You know when you're carrying three, full grocery bags, your coffee mug, a toddler on your hip, and you need your keys, but they're buried at the bottom of your bag and now you're in trouble? This keychain will help alleviate that problem. If you have small hands, slip the loop around your wrist for quick and easy access to your keys! If your hands are larger, they make for a nice, quick grabbing loop. The tiny brass boat snap also clips nicely to your tote bag strap to keep your keys up off the bottom of your bag. 
Keychains are approximately 6.5 inches long. The rope is custom made for Scout + Bean here in Midcoast Maine. They're all sewn onto industrial brass boat snaps sourced from Maine-based Viking Lumber Co. and finished with a waxed cotton thread from Maine Thread Co. in Lewiston, Maine. How's that for Maine made?